Oak Ridge Junior Golf Program – Summer 2019
Oak Ridge Junior Program 2019
What is the Oak Ridge Junior Program?
The Oak Ridge Junior Program is a great way to learn the game of golf.  Participants will learn the basic fundamentals of the golf swing throughout 6 lessons, as well as rules and etiquette as they play a few holes after each lesson.  The instructors are Kirk and Andrea Wieland, both golf professionals at Oak Ridge Golf Course in Milton. Kirk is the current head coach of the Milton High School boys and girls golf teams.  Andrea is the head coach of the women's golf team at the University of Wisconsin-Whitewater.
Who can be in the Program?
Boys and girls ages 6-18 may be a participant, and all ability levels are welcome.  Parents are strongly encouraged to attend each session to walk along with their children when they golf on the course.  Back this year:  We are offering one High School Only class, for kids of high school age, and also one "1-Holer" class to kids ages 4-6.  See attached files at bottom of page for more info.
When does it take place?
Participants will choose between Tuesday sessions OR Thursday sessions. For 2019, these session dates are listed below.
The lessons and golf will take place at the Bonny Meade Links
driving range (across the street from Oak Ridge).  The year-end tournament is held at Oak Ridge.
CLICK HERE FOR THE 2019 DETAILS–>Oak Ridge Junior Program 2019
How much does it cost?

Prices for the program, which includes 6 lessons, golf following
each lesson, and a year-end tournament, range from $75 – $100, depending on the level the individual signs up for:
(3-holers = $80/$75 each, 6-holers = $90/$85, or 9-holers = $100/$95).

How do I enter?
BACK AGAIN THIS YEAR!  ONLINE SIGN-UP!
Sign up will be ONLINE, through Sign-Up Genius, on a first-come, first-serve basis starting on Sunday, April 28, 2019 at 6:00pm.  We are only taking online sign-ups this year….no more waiting in line on sign-up day!  However, this new method does not come without some new expectations:  1. The sign ups can ONLY be taken online, so we can no longer take paper forms.  2. Even if you choose to sign up AFTER April 28 at 6:00pm, you will still need to sign up online.  3. You will have the OPTION of paying online, but the entry fee for the program is LESS if you pay via check or cash.  (Your payment would be due 1 week after you sign up.)  4. The classes that combine 3-holers and 6-holers will be charged online at the higher rate of the two options, so you will definitely want to pay via cash or check for those classes.

If you signed up last year, look for an email with a Sign-Up Genius Link.  OR, come back to THIS PAGE and sign up on Sunday, April 28 at 6:00pm by clicking the button below!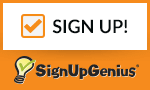 Thank you! We look forward to another great year of Junior Golf!
Sessions Available in 2019:
            9-Holers:  Tuesday 9:00 or 9:45,       Thursday 8:45         High School Age only:  Thursday 8:00am
             6–Holers:  Tuesday 9:45 or 11:15 or 12:00,      Thursday 11:00 or 11:45
             3–Holers:  Tuesday 8:15 or 11:15 or 12:00 or 12:45,     Thursday 11:00, or 11:45 or 1:15
1-Holer:  Tuesday 1:30pm  (Approximate Ages 4-6)
*Please note that some of these sessions overlap—for example, the Tuesday 9:45 class will consist of both 9 and 6-holers.
Questions about Junior Golf?  Send an email to Andrea at info@oakridgegolfcourse.net